Description
Join us as out of town guest speaker, Scott Larson, Executive Director of Visit Laramie, tells the story of Visit Laramie's rebrand concept and how they went from who they were to what they are now AND how they did all of that, including a website rebuild and redesign, during a global pandemic.
He will expand upon how they:
leveraged the captured opportunity presented by Covid-19

creatively used deadlines and budget years

defined their brand pillars, position statement and tagline

pursued cohesive community messaging

and engaged community partnerships
Speaker:
Scott Larson, Executive Director of Visit Laramie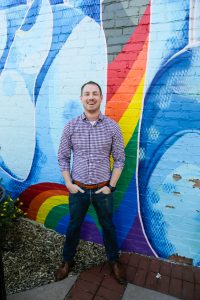 Originally from Nashville, Tennessee, Scott moved to Wyoming in 2019 to join Visit Laramie as the Executive Director. During his time there, he has rebuilt many aspects of the organization, including the marketing plan, the team, and the rebrand and website that launched earlier this year. In this role, Scott is responsible for all things related to the promotion of travel and tourism in the Laramie area, and he has led the team to produce record-breaking numbers for both revenue and visitation during his tenure. 
Prior to joining Visit Laramie, Scott worked in sales and marketing in Steamboat Springs, Colorado, serving as the digital marketing and content manager for the Steamboat Springs Chamber and Visit Steamboat Springs. While there, he led the launch of their new website while assisting with their rebrand. He is a data-driven marketer with a passion for creating innovative strategies and solutions. At Visit Laramie, Scott leads a group of young, talented, and dynamic individuals with a team-first mentality who strive every day to use tourism as an economic driver to support small, local businesses in the community while balancing growth with sustainability.
In his free time, Scott enjoys volunteering and spending time with his wife and their cattle dog, Ollie, pursuing outdoor adventures in the mountains. Scott also enjoys ultrarunning, skiing, camping, and traveling, making Laramie the perfect basecamp.
COVID-19 UPDATE:
AMA Omaha takes the health & safety of attendees and COVID-19 precautions extremely seriously. At this time, AMA Omaha meetings are following any/all state and county COVID-19 guidelines for meetings and events in Douglas County and is deferring to current CDC guidelines for mask usage and wearing. If you have questions or concerns about attending this event please reach out to Sarah Morris at sarah.morris@coxmedia.com.
By clicking BOOK NOW above, you are acknowledging that an inherent risk of exposure to viruses, and other hazards that may cause injury or sickness, exists in any public space where people are present. By attending AMA Omaha's November 2021 Power Hour, you knowingly and voluntarily assume all risks to exposure to viruses and agree not to sue the Event Sponsors, AMA Omaha, Spezia, nor any of their affiliates, directors, officers, employees, agents, contractors, or volunteers nor attempt to hold any of them liable for any illness or injury.
If for any reason we cannot meet in person, the event will move to Zoom (or canceled) and refunds will be issued.