Description
Experience the compelling and inspiring journey of Allen's personal brand and mission that evolved into a unique and thriving national business in the healthcare industry. Allen has established audacious goals, personally, professionally, and companywide.
Learn how his personal vision, mission and values have translated and been infused into a company and culture awarded for being a best place to work in Omaha and named a Top 150 healthcare company in America to work among numerous other awards.
You are your brand and your company's brand. Allen will share why there is not a delineation between the two and how you can meld them together for greater success, fulfillment, and growth.
Speaker: Allen Fredrickson, CEO/President of Signature Performance, Inc.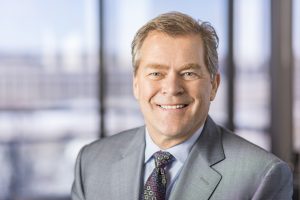 Allen Fredrickson is the Chief Executive Officer and President of Signature Performance. He founded the company in 2004 in Omaha, Nebraska. Signature's started by pioneering an innovative approach for hospitals and health systems to manage and execute complex revenue cycle functions in a transformational way at the time. This concept quickly proved transformational in advancing business service performance and lowering costs for healthcare providers across the U.S. Since then, Signature Performance has become one of the nation's foremost full-service healthcare administrative business service processing companies serving providers and payers in all 50 states.
Throughout Mr. Fredrickson's career, he has been determined and passionate about building business, people and communities, creating thousands of jobs in more than 40 states, bridging qualified workers with quality positions and opportunities. Under Mr. Fredrickson's leadership, Signature Performance has received numerous accolades including multiple client awards such as, Best Places to Work in Omaha, Best Places to Work in Healthcare, Excellence in Worksite Wellness Award, Seven Seals Award, the Better Business Bureau Integrity Award, and Outstanding Veteran Employer Award.
Long known for his advocacy for inclusion and equality, last year, he signed the Commitment to Opportunity, Diversity and Equity (CODE) with the Omaha Chamber of Commerce. As an employer coalition member, he is committed to doing all that he can to support the Omaha community by providing sustainable growth opportunities in all areas of diversity, inclusivity, equity, and opportunity.
Mr. Fredrickson is actively involved in charitable and community advancement initiatives. In 2020, he was awarded the Pink Tie by the Susan G. Komen Foundation for his commitment to fight against breast cancer. In 2019 he was awarded the Business Excellence Award by the Omaha Chamber of Commerce for Signature Performance's efforts in innovation, leadership and philanthropy. He has decades of community and industry involvement, with leadership roles aimed at helping to influence the future of the healthcare industry and the betterment of the Omaha community and the state of Nebraska. He has held leadership positions in a number of national healthcare associations on both the provider and payer segments of the market. He is a current board and trustee of the Omaha Business Ethics Alliance and an advocate for growing Nebraska's rural and urban economies by expanding operations in both rural and urban Nebraska. Fredrickson is a past Nebraska Diplomat of the Year, State Chamber Board of Directors member and Omaha Chamber Volunteer of the Year recipient.
COVID-19 UPDATE:
AMA Omaha takes the health & safety of attendees and COVID-19 precautions extremely seriously. At this time, AMA Omaha meetings are following any/all state and county COVID-19 guidelines for meetings and events in Douglas County and is deferring to current CDC guidelines for mask usage and wearing. If you have questions or concerns about attending this event please reach out to Sarah Morris at sarah.morris@coxmedia.com.
By clicking REGISTER below, you are acknowledging that an inherent risk of exposure to viruses, and other hazards that may cause injury or sickness, exists in any public space where people are present. By attending AMA Omaha's November 2021 Power Hour, you knowingly and voluntarily assume all risks to exposure to viruses and agree not to sue the Event Sponsors, AMA Omaha, Spezia, nor any of their affiliates, directors, officers, employees, agents, contractors, or volunteers nor attempt to hold any of them liable for any illness or injury.
If for any reason we cannot meet in person, the event will move to Zoom (or canceled) and refunds will be issued.