Description
As most people were watching Netflix and making sourdough starters in 2020, Jennifer Lea, founder and CEO of Entry Envy, began her business to fill a need she saw in her own home and others. Jennifer will share more detail about how she launched her business, Entry Envy, all while running a law firm full-time amidst a divorce, pandemic and full home remodel. After leaving a 25 year corporate career in marketing and professional services at companies such as Aesthetic Surgical Images and various law firms, Jennifer now operates full-time as Founder & CEO of Entry Envy, a leader in the home identification and subscription space.
 Entry Envy was awarded Best New Subscription of 2022 by SUBTA and is well on its way to disrupting the marketplace for home identification and front porch decor. Join us to hear more from Jennifer and about her career journey, her passion for women in the trades and how Entry Envy became a leader in the eCommerce and subscription industry.
All attendees will be entered into a giveaway drawing for a $199 gift card to Entry Envy, donated by Jennifer. This gift card is redeemable for a custom sign of choice and three month subscription. Learn more at entryenvy.com.
Speakers: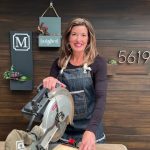 Jennifer Lea, CEO, Entry Envy
Entry Envy was founded by Jennifer Lea in Omaha, Nebraska to help others create a welcoming entry with simplicity and convenience that also identified their home for their guests and delivery drivers. Her inspiration came after remodeling her own home that had outdated and hard-to-read house numbers. Jennifer's house is filled with creativity, love, and a little crazy! She has two daughters, a dog, a 15 lb. red footed tortoise, two guinea pigs, and a fish. She has twenty years of experience managing professional service firms, a bachelor's and master's in business. Her mission is to help empower more young women to consider the trades as a noble profession. 
A note from Jennifer:
"I attended my first AMA meeting when I was 19 and now I have the honor to speak. I can't wait to join you at the September meeting and I'll share how I launched Entry Envy last year while running a law firm full time and where I am today after a 25 year corporate career, divorce, pandemic, and home remodel. It's a fun story and one that is definitely still being written!"
COVID-19 UPDATE:
AMA Omaha takes the health & safety of attendees and COVID-19 precautions extremely seriously. At this time, AMA Omaha meetings are following any/all state and county COVID-19 guidelines for meetings and events in Douglas County and is deferring to current CDC guidelines for mask usage and wearing. If you have questions or concerns about attending this event please reach out to oneamaomaha@gmail.com.
By clicking REGISTER below, you are acknowledging that an inherent risk of exposure to viruses, and other hazards that may cause injury or sickness, exists in any public space where people are present. By attending AMA Omaha Power Hour Events you knowingly and voluntarily assume all risks to exposure to viruses and agree not to sue the event sponsors, AMA Omaha, event venue/location, nor any of their affiliates, directors, officers, employees, agents, contractors, or volunteers nor attempt to hold any of them liable for any illness or injury.
If for any reason we cannot meet in person, the event will move to Zoom (or be cancelled) and refunds will be issued.